Cyber crime is increasing. Across England and Wales, computer misuse and fraud were the two areas of crime that significantly increased – by 47% compared to the previous year. Without these two areas, overall crime actually decreased.
There has never been a more important time to think about the security of your businesses technology systems. All businesses are vulnerable to cyber threats, not just larger organisations. Here are 15 ways that you can protect your business from a cyber attack.
Cyber security protection
Click the image below to download your checklist and start protecting your business today.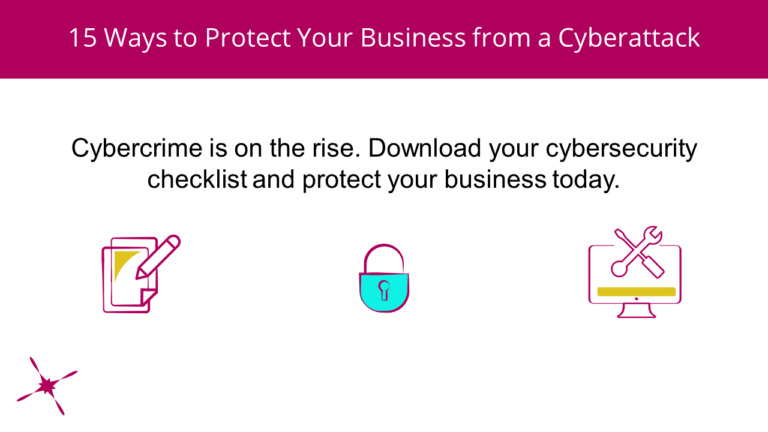 1. Security Assessment
Before you start implementing any new cyber security tools, you first need to take a step back and review tour systems. What do you already have in place, and what do you need to add? You need to establish a baseline and refer back regularly.
2. Spam Email
Email is perhaps the main way hackers infiltrate an organisation. Email threats rely on human nature, and people not spotting spam email vs genuine email. Email protection is vital.
3. Passwords
Make sure passwords are secure across your business. From admin accounts to your end users, passwords should all be strong, secure and unique. Never repeat a password – if you do, then all accounts with the same password could be vulnerable.
4. Security Awareness
Make sure to regularly train your staff in the importance of staying vigilant. Teach them about phishing, data security and the policies and procedures you have in place.
5. Advanced Endpoint Detection and Response
Protect your computers data from malware, viruses and cyberattacks with advanced endpoint security.
6. Multi-Factor Authentication
This might just be our favourite. You should use MFA whenever you can – professionally and personally. MFA adds an extra layer of protection to your account, so if your username and password are compromised, that won't be enough to give access to your account.
7. Computer Updates
Keep all devices and software as up to date as possible. Updates often come with vulnerability fixes, and many company breaches have been the result of cyber criminals targeting out of date systems. Discover the benefits of managed patching here.
8. Dark Web Research
Knowing which usernames and passwords have been exposed is vital, so you can secure those accounts again. Change the passwords and enable MFA if possible. Regularly scanning the dark web is a great way to proactively protect your business.
9. SIEM/Log Management
SIEM reviews system logs from covered devices to identify threats on the network. SIEM is a great option if you're looking to meet compliance requirements.
10. Web Gateway Security
Cloud-based security detects web and email threats as they emerge, and blocks them on your network before they can reach your users.
11. Mobile Device Security
Cybercriminals attempt to steal data or access your network by way of your employees' phones and tablets. They are counting on you to neglect this piece of the puzzle.
12. Firewall
Turn on Intrusion Detection and Intrusion Protection features. Send the log files to a managed SIEM.
13. Encryption
Whenever possible, the goal is to encrypt files at rest, in motion (think email) and especially on mobile devices.
14. Backups
Backup local. Back up to the cloud. Have an offline backup for each month of the year. Test your backups often.
15. Cyber Insurance
If all else fails, protect your income and business with cyber damage and recovery insurance policies.
Protect Your Business' Security
Make sure to review these areas of cyber security to give your business the past chance of protection.
Looking to partner with cybersecurity experts? Have a chat with one of our friendly consultants today.