Reading Time:
2
minutes
We want to talk to you about Planner. We have told you all about OneNote and how it can help the teams within your business collaborate. Planner is one of the other new apps that comes with Office 365 that we are getting excited about. It's basically a tool that allows your teams to get stuff done.
The app is the hub of your project work. It allows you to create plans, build teams and then assign tasks within those teams. You are even able to update statuses within the app so that everyone is always up to date with what is going on rather than relying on emails that can go missing or be ignored. If you have assigned too many tasks to one person you can review that and move them to someone else. Planner is all about collaboration, allowing you to share files and have conversations without switching apps. All discussion can stay in one place rather than being trapped within disparate apps that some people may not be able to see. Planner allows for everyone to be on the same page.
One of the great things about Planner is that you are able to see everything that you need to at once. It's a very visual application giving you clear diagrams and charts that illustrate progress and time commitments. For example, you are able to have a donut chart showing you which tasks are completed, late, in progress or yet to be started. You will always be able to know where you are with Planner and how much is left to be done. Individuals are also able to see their tasks across multiple plans so that they know exactly where they are and what needs to be made a priority.
Planner Across Multiple Devices
Naturally, as an Office 365 product, Planner is accessible across multiple devices. You can access Planner from the app launcher in the Office 365 browser. You can even receive email notifications whenever an update is made to a plan. The flexibility of the app makes sure that you are always in the loop when it comes to what is going on with a project.
Planner orchestrates the real collaborative power and flexibility of Office 365. It brings teams together and ensures that projects are organised effectively with efficiency.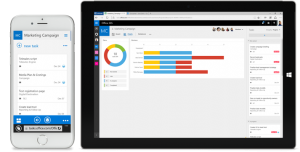 If you're interested in bringing Planner and Office 365 to your organisation or receiving any kind of IT support please contact ACUTEC today.