We don't all love meetings, but we do accept that they're a normal—and necessary—part of the working day. Microsoft Teams has a great range of features that you can use to enhance your meetings, and make sure they're productive, even when your team is tuning in from different locations. We've put together this list of advanced Microsoft Teams features as a way of helping you make the most out of your meetings.
1. Audio Conferencing
When team members are out of the office, internet access isn't always a given. If you don't have reliable internet, you can use Audio Conferencing to access meetings via a dial-in number. This feature is supported in more than 400 cities in over 90 countries, and can be enabled for any Office 365 user. Audio Conferencing is included with some levels of Office 365 subscriptions, and is also available on a per-minute basis as an add-on feature.
2. Invite anyone to any meeting
Need to include people from outside the team, or even outside your organisation? You can schedule meetings with anyone just by sending them an invitation via email. Once the user receives the email, they just need to click the link to join the meeting—they don't even have to be a Teams user, or install the client.
For a more feature-rich meeting experience, they can opt to install the desktop client to use video and camera options and share files. Or, if they're using the Microsoft Edge or Chrome browser, they can enjoy the feature-rich experience right from their browser window, without the client download.
Some other advanced features include:
Meeting lobby: The Teams meeting lobby is another layer of security that helps you ensure only invited users attend the meetings you schedule. When you invite users by email, they're directed to a virtual lobby. Once there, someone from within your organisation then admits the guest to the meeting. Audio Conference users can be admitted in the same way.
Federated meetings: Teams supports meetings of up to 250 people, and has a federated meeting feature that allows you to host meetings involving multiple different organisations.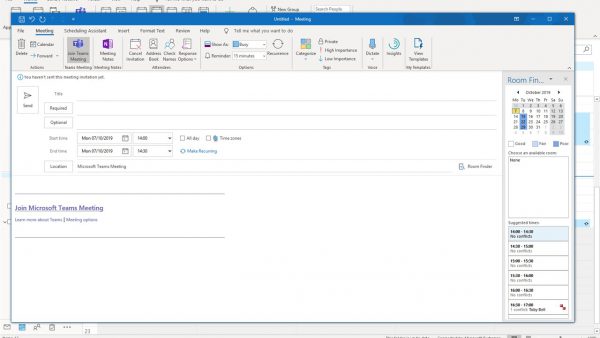 3. Schedule private meetings
Need to speak to one or more people privately before a big meeting? You can schedule private meetings for quick chats beforehand, to share important material, discuss the meeting agenda, or get someone up-to-date on key matters.
4. Start impromptu meetings
When a team chat suddenly gets busy, it's often productive to have an impromptu meeting so that everyone can talk more freely. In Microsoft Teams, you can start a meeting at any time by choosing the Meet Now option in the conversation window. This starts up a video call, meaning that instantly everyone can talk in real time rather than being confined to typing.
5. Record your team meetings
Even with extra features such as Audio Conferencing, it's inevitable that people will sometimes miss meetings. An easy way to keep people in the loop is to record meetings, and then add them to a Teams channel for everyone to view afterwards. You can record audio and video, as well as any shared screens that are used during the meeting. It's saved automatically to Microsoft Stream, and team members can download as well as view recordings.
A useful way to enhance recorded meetings is to enable the automatic transcription feature. With this feature enabled, people can play back recorded meetings with closed captions. This makes captured audio easier to understand and also makes it searchable.
More Quick Tips for Getting the Best Out of Teams for Meetings
When using your camera, turn on Background Blur. This blurs out whatever's behind you, making you more prominent to viewers and helping them stay focused.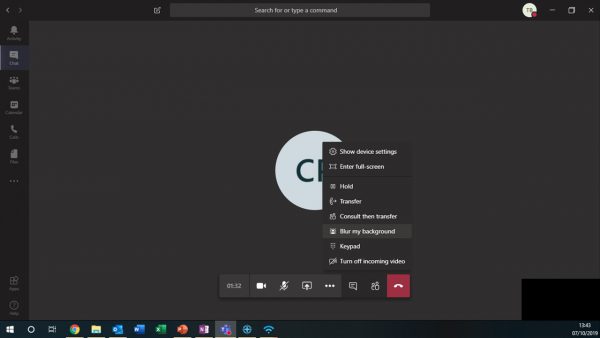 Mute the microphones of people who aren't speaking, or people who have lots of background noise. This helps prevent accidental sounds and feedback from distracting listeners.
Keep any documents you're using handy by having them open and minimized. That way, they're ready to share as soon as you are.
The Application Sharing feature allows you to hand over control of your desktop to another meeting attendee. Or, if another attendee is sharing their desktop, you can request control. The Application Sharing feature allows you to request, give, or relinquish control of the active desktop at any time, so that any meeting attendee can take the driver's seat.
Use the Call Analytics feature to troubleshoot the meeting experience for individual users. Call Analytics allows you to search through a team's call history to pinpoint specific user issues and find ways of solving them.
When your team can't all be in the same place at the same time, Microsoft Teams gives you a way to get together. And with useful features such as the ability to record meetings, and invite people from outside the organisation, Microsoft Teams meetings can be just as productive as the ones you have face-to-face.
If you'd like to benefit from Microsoft Teams in your organisation, contact ACUTEC today.