Last Updated on
Cyber security is at the forefront of many finance or IT professionals' minds these days. It appears that nearly every day there is another corporation that has been hacked or experienced a cyber security threat of some kind. Protecting an organisation against cybercrime is no longer a job for the IT department. Every individual in a company needs to be aware of the risks of how they interact with the technology they are using and be on their guard against malicious emails that they might receive. Sometimes, it can be very difficult to tell if an email is genuine or not and it can seem completely inconspicuous.
If you are using Office 365 there will already be stringent security measures in place to ensure that your data is protected, however, you do have the ability to increase your security of Office 365 by implementing Advanced Threat Protection. The add-on allows IT to no longer worry about staff clicking on malicious links or attachments without thinking about whether it is genuine or not. While end user education is still key to fighting cybercrime, this technology reduces some of the risks of things like phishing emails. In this blog, we wanted to give an overview of the add-on for Office 365 and how it works.

What is Advanced Threat Protection?
Advanced Threat Protection enables an organisation to be able to protect its users and their inboxes against attacks in real time. There are new types of malware being developed every day and it is difficult to be able to protect against something brand new. With Advanced Threat Protection, malicious links and attachments are scanned to ensure zero-day protection. Zero-day is the IT industry term for cyber threats that are new and there are no patches or measures developed yet to defend against them.
Protection against unsafe attachments
Advanced Threat Protection adds a new feature to Office 365 that scans all attachments with a real-time malware behavioural analysis. What this means is that if you receive an attachment it is scanned before you can open it to check it's safe. The scan evaluates the content in the attachment for suspicious activity, if it believes it is suspicious the recipient will not be able to open it.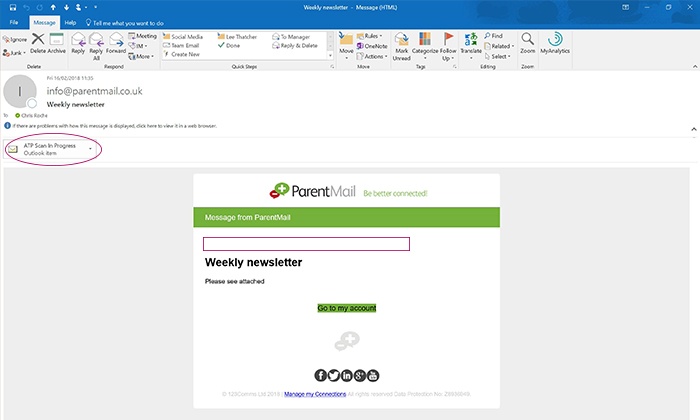 Protection against malicious links
One feature of Advanced Threat Protection is that it scans any links in emails for malicious content. The security add-on then goes a step further and rewrites the URLs to go through Office 365. Any URLs are scanned as the user clicks on them and if the link is malicious the user is warned that the site has been blocked or not to visit it. The feature even comes with reporting so that administrators can see who has clicked on a link and when they clicked on it.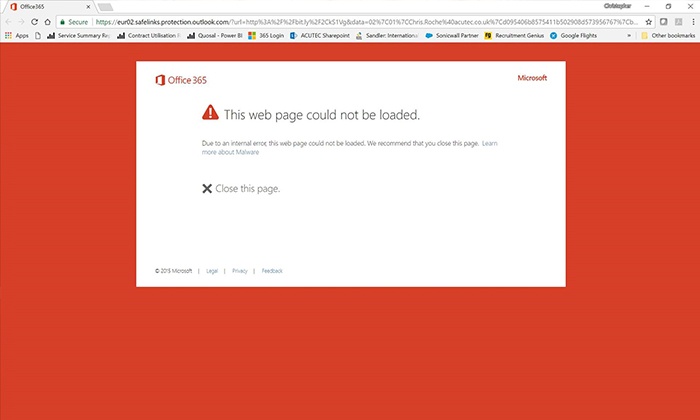 Advanced Threat Protection also gives you access to data to gain insight into what is going on with the security in your organisation. You can access reports that highlight and investigate messages that have been blocked and where links have been clicked on.
Added security for peace of mind
By enabling this security add-on in Office 365, you are increasing the safety of your network. You will no longer need to worry about staff vigilance and whether they click on emails and attachments without thinking. To a certain extent, the technology with Advanced Threat Protection will do the thinking for you now. It analyses whether the content is safe before allowing your user access to it. Even if your users are pretty savvy when it comes to malicious emails, the malware behavioural scanning that comes with this add-on will be able to come to a more accurate conclusion than a member of your team, especially if it appears that email is from someone they know.
We would love to hear your thoughts and ideas on Advanced Threat Protection. If you would like to know more, say hello today and call 01675 469020 or email hello@acutec.co.uk